1976 TRIUMPH 750 BONNEVILLE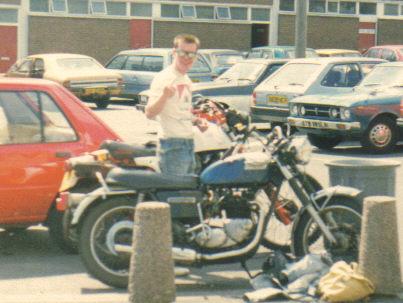 I bought my Triumph in April of 1984, off my best friend who had bought it in London, and ridden it up, which was quite amazing really, as he could barely ride a bike, and one of the key reasons that I bought it from him was so that he wouldn't kill himself on it.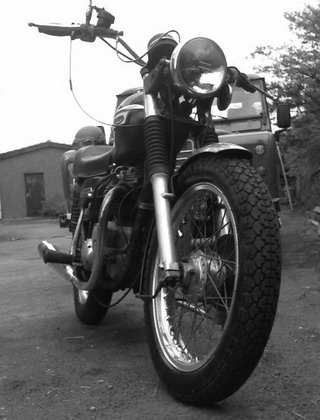 I've no idea how many miles I've covered on it, well in excess of 60,000. It has had 3 engine rebuilds, 1st when I bought it, as it had been wrecked the day before I was due to collect it, my friend had called to say that he had crashed it into a wall and asked if I was still interested. I told him to bring it round and I'd have a look. When he showed up it looked a sorry state, the primary chaincase was all mashed up, left hand exhaust crushed, left side of the 'bars and the left footrest bent skyward! I gambled that the crank wasn't bent and made an offer which was accepted.
I removed all the mashed casing, the left-hand exhaust and the alternator. I fired it up, the sound and the flames were amazing! The crank was bent, just the end where the alternator is mounted. I was disappointed but that didn't last long. It had been raining heavily whilst I worked away, but now it had stopped. I took the bonnie out for a wee blast, I just had to! I spent that evening just sitting on the bike, then sitting looking at it, then moving around taking it in from every angle and relishing the fact that this Bonneville was mine. I listened to "Riders on the storm" by the doors, smoked a couple of reefas, and knew that my life had changed that day. The song had new meaning for me from that day on. I took the bonnie to Sid's place in Radcliffe, North Manchester, where they installed a replacement crank, alternator, primary case, exhaust and handle bars whilst I was away at work for 2 weeks.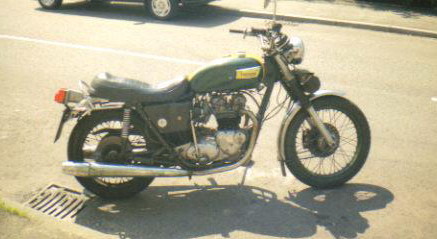 When I got home from work, I called to confirm that my bike was ready, then set off, eager to start this new chapter in my life. Riding home was one of the best rides ever, though only 30 miles or so, I was on my very own Triumph Bonneville, a name that had been ringing in my head since I was 8 years old, and this bike fulfilled every promise my childhood dreams had made. This was my Bonneville and I knew that I would never want to sell it.
I was riding everyday that God sent me, that summer seemed to last forever. The guy I bought it from would keep asking to have a ride; I would let him, and as he was my best mate, didn't mind too much that he often referred to it as "our" bike. I was working 2 weeks on 2 weeks off, and the first thing I would do when I got home from work was get the key and fire her up. I will always love the sight of that red oil pressure warning lamp that comes on when I put the key in and turn on the ignition. Tickle the carbs, free off the clutch, kill switch off, kick the engine over to get a charge in the cylinders and then kill switch on and she would fire up first swing. It is always a thrill to perform this ritual.
The engine was rebuilt for a 2nd time in 1985 after about 20,000 miles of ownership. I had been down to Okehampton, in Devon, and after the long trip back up a few things had become loose, and the exhaust silencer fell off. Still being a bit of a novice, I went to see a "friend" who told me it needed a rebuild, and as he had good experience I allowed him to do the job. The rebuild dragged on and on, and then one day I heard that he had been bragging about how he was milking the job. So off I went in a little hired "Rascal" van to collect my bike and finish the job myself. I took the bonnie to my parents new home in Todmorden where my Father had a small workshop. Here I was able to get the topend of the engine finished and get back to riding the bike.
The 3rd time it was rebuilt, was after it lost a gudgeon pin circlip (wrong parts supplied by the "friend" who had been ripping me off) traveling up from Gloucestershire. I had about 1 square foot of clear bench space in the shed available for the rebuild, and once completed had to carry the engine down a steep set of stone steps to get it back into position in the frame.
When I bought my FXR , the bonnie was relegated to the back of the shed for 5 years, until I made a conscious effort to put it back on the road. I still don't ride it as much as I should, but this has been mainly due to the inaccessibility of the "old" shed. After putting the Bonnie through an MOT I have been tidying her up. I have now replaced the old rusty wheel rims with a fine pair of spoked alloy wheels, they have transformed the machine visually. I replaced the leaking exhaust rockerbox base gasket, and have fitted new drive chain and sprocket. Also a new pair of low rise export handlebars have been fitted and the tank returned to blue and white, similar to when I first bought the machine.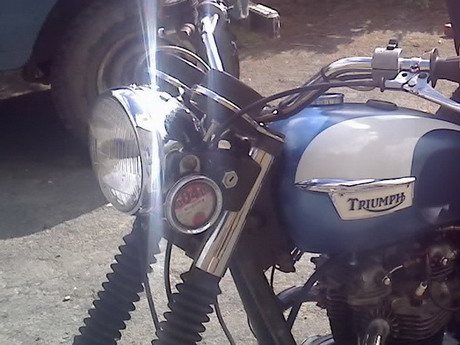 Having made the best of the last summer riding the Bonnie, several problems were highlighted:
Repeatedly sticking exhaust valve.

Excessive noise from the top end.

Asthmatic performance.

Poor starting.

Front fork judder/flex.
These issues have prompted me to strip the engine. When I do strip the engine I shall be fitting a set of E3134 cams to boost performance to an acceptable level.
The fork issue could well be just an out of balance wheel.
Once the engine is out of the frame, I shall continue to strip the chassis in order to recoat the frame. I would like to achieve this myself, but if time is not kind, I shall farm it out.
Work on the Land Rovers , and several parties have delayed things a bit, I have a full gasket set and a new work bench waiting for the work to start. The engine would only take a couple of days providing nothing unexpected arises, so once work on the Yeti Monster is complete I can begin.